Puppy Raising for Breeders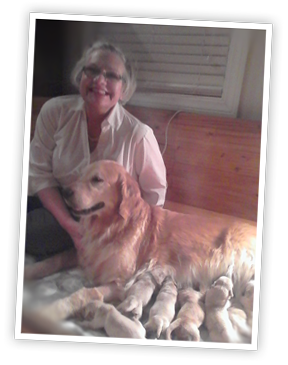 If you are a dog breeder who needs help nurturing and developing a litter of newborn puppies, I offer round-the-clock, developmentally appropriate stimulation following the work of Carmen Battaglia and the STAR program, which was developed by the government to get our military working dogs off to the best start. With proper stimulation and meticulous care, puppies can get ready to realize their highest potential, whether as show dogs or family pets. This is the optimal time to capitalize on neuroplasticity.
My goal is to prepare your pups to thrive in the homes you have chosen for them. My service consists of bringing the newborn litter into my home for the approximately eight weeks until you place them. Your puppies will meet different people and safe adult dogs. They will be clean, and lovingly cared for.
Testimonial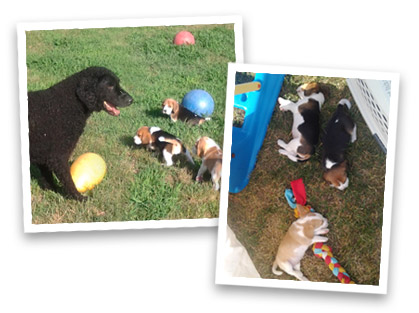 "We received a puppy that was raised at Jenny Dickinson's home. He was crate trained, clean, very sociable, and not scared of anything! He is a very sound-tempered dog who is a gem with our daughters. He shows promise for both conformation and obedience. We absolutely love him and could not imagine our lives without him."
- Melanie P., professional handler, Quebec, Canada
"Jenny has raised two beagle litters for me. She has been attentive to my preferences and my requirements for their handling. She has been with the puppies and has cared for them as though they were her own. At a time that I was unable to give them the attention and care they needed, this was a lifesaver."
- Delene Henry-Vota, Shadowbrook Beagles, Harmony, Rhode Island