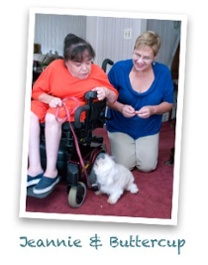 I have had the privilege of helping develop working skills with service dogs for our returning military and other persons with disabilities. I continue to be amazed by the abilities of dogs to step in and help folks who need some physical or emotional support.
Waiting lists with the service dog training schools are so long that many peole are now training their own service dogs. Of course they need some guidance, and that's where I come in.
Testimonial
"My name is Mike and I am a disabled Marine Corps Veteran and a cancer survivor. I am one of the many fortunate people who have come to know Jenny Dickinson. Jenny has trained and still works with my service dog. His name is Exon, an 86-pound German Shepherd.

Watching Jenny work with Exon is like watching a school teacher working with a child who does not speak English. I call it working her magic. She gets him so engrossed and excited with working that it becomes play to him. She has built a relationship with Exon as if he was one of her friends.

Because of my injuries I have poor balance and fall. I need stability when negotiating stairs and it is painful for me to bend over and pick things up. Jenny has made these day to day things easier for me by training Exon to help.

Aside from basic training, Jenny has trained Exon to close doors, carry things, help me get up when I fall, help me down onto the ground, find and get things like a phone for me, provide balance for me when I am on stairs or an escalator, pick things up for me like my phone, keys and even my cane.

Jenny has taught Exon discipline and how to be patient. Because of this Exon has been able to go with me to stores, airports, the hospital, restaurants, church, doctor's offices, weddings and wedding receptions where he had to spend four hours lying under a table.

Recently he spent six hours lying at my feet on an airplane with three people in front of him without disturbing the people or getting anxious. That's discipline."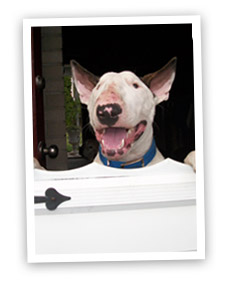 Semper Fidelis
Mike Ballirano (USMC Ret.)
"Jenny Dickinson has improved my relationship with my 10 month old Bull Terrier using skills that not only guide the dog into adopting the behaviors I seek but teach me, the owner, skills that I need to understand dog behavior so that both the dog and I cooperate as a team. My dog will be a service dog. Jenny has shown me skills I need so that the dog works with me under all types of conditions and situations. She's amazing and anyone needing in-home training, service dog training, or help with behavior problems in their dogs can be assured Jenny Dickinson is the best I've ever known and I've had dogs all my life. You'll thank her as I have for both her help and her friendship."
- Geoff Charles (Afternoon host 94HJY RADIO)
"The 2 years spent with my dog in Jenny's Canine Behavior and Training Certificate Program at Mt. Ida were by far the most fun I'd ever had in school, and taught me so much more than expected, that I commuted 100 miles every week and am now 'paying it forward' as a volunteer puppy raiser for a future assistance dog. Well-behaved pet and obedience competition dogs are Jenny's goal and her ability to share her training and bonding skills with dog owners is second-to-none. Thanks,"
- Donna Martin